As Sarah has shared I did the Cape Argus Cycle Tour again this year. It's the World's Largest Bicycle race with 38,000 riders this year! It's such a part of Cape Town culture and really grabs the city's attention.
I'm quite proud of how I did this year. My first year (when we were here in 2008) I finished in 6 hours. Last year, I got it down to 5:05. This year I set a goal to ride it in 4:50. It seemed like a good goal to cut off 15 minutes. Well, I crushed that goal and did it in 4:10! That's 55 minutes faster than last year, which was 55 minutes faster than 2008. I guess that means I have to do next year in 3:15! (Yeah, NEVER).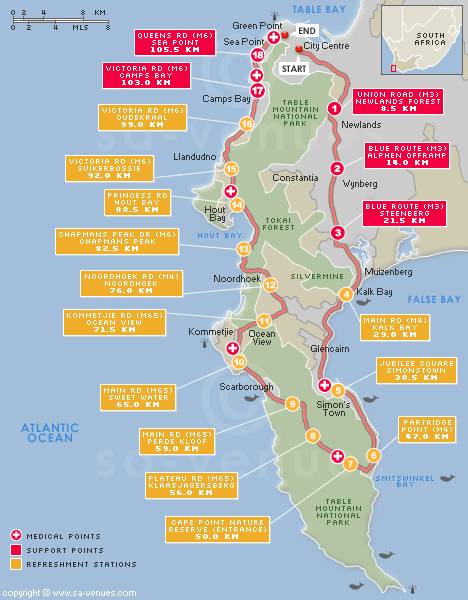 The weather was totally PERFECT this year. There was no wind and temperatures were in the 70s. Weather can dictate so much with cycling. Also, I got to start a lot earlier this year because of my time last year, so riding with faster riders really helps.
The best part of the race, though, is when I make that turn at Soetwater park and head towards Ocean View. I know I'm coming up to my "home field". I have decide that everybody is out there JUST to cheer for me! Ocean View's hero rides through! I start seeing kids I know and calling them by name so they totally freak out that they actually know somebody riding. Then, I stop to visit my family and all the friends gathered there. It gives me great motivation to finish the last 1/3 of the race. Even after Ocean View I see friends in Masi, Capri, and then Noordhoek. So that whole 1/2 hour is my favorite part, right before the last 2 kick-butt mountain climbs.
Next up, finding an entry for the sold out Two Oceans 1/2 Marathon. Set a goal to run 1:50 this year. I think I can do the time, but need to find an entry.
What goals are you setting for yourself this year? How are you pushing yourself in exercise & fitness?
Cheers,
Casey